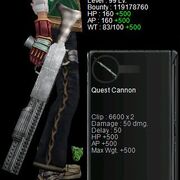 NOX items are items normally used only by staff members on private servers. These weapons have extremely high ("rigged") stats, such as ridiculous amounts of attack, nonexistent delay, etc. NOX items are typically only used in special events and for testing.
Ad blocker interference detected!
Wikia is a free-to-use site that makes money from advertising. We have a modified experience for viewers using ad blockers

Wikia is not accessible if you've made further modifications. Remove the custom ad blocker rule(s) and the page will load as expected.