See w:c:Gunz2 for more extensive info.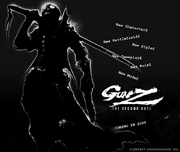 It is due no later than 2009 and will be built completely from scratch. It will utilize the Realspace 3.0 engine, which can be seen at work in screenshots of MAIET's discontinued MMORPG, AceSaga. It has been in development since October 2007.
MAIET officials have stated that even with the release of GunZ 2, GunZ 1 servers will continue to operate. Thus, GunZ 2 will be considered as a separate game, not an update.
That said, while GunZ 1 and GunZ 2 ran concurrently from late 2011 to early 2013, with the cancellation of GunZ 1 by Aeria in May 2013, GunZ 2 will be the only game left (and thus a replacement) from June 2013 on.
It has also been stated that GunZ 1's "problematic system", which is the basis for many Styles and tricks, will be "changed to a better system", but not altered fundamentally. K-Styling will be possible, but may be "a bit different in terms of outlook or control". GunZ 1 characters will not be transferred to GunZ 2.
External Links
Edit
Ad blocker interference detected!
Wikia is a free-to-use site that makes money from advertising. We have a modified experience for viewers using ad blockers

Wikia is not accessible if you've made further modifications. Remove the custom ad blocker rule(s) and the page will load as expected.