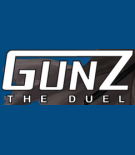 GunZ: The Duel is a free-to-play online multiplayer third-person shooter created by MAIET Entertainment. The game allows players to perform exaggerated, gravity-defying action moves, including wall running, stunning, tumbling, and blocking bullets with swords, in the style of action movies and anime. The game uses the typical PC FPS control scheme: WASD and Mouselook. However, there are also a variety of moves not found in typical FPS games.
There are multiple versions of the game.
'North America 2017("GunZ: The Last Duel") - Sponsored by M2O Gaming Network. via their game portal GunZ
International (IGunZ) - (Open Beta) Hosted by MAIET Entertainment.
Korea ("KGunZ") - Sponsored by Netmarble.
Japan ("JGunZ") - Sponsored by Netmarble.
India ("InGunZ") - (Open Beta) Sponsored by Level Up! Games.
North America ("ijji GunZ" or "NAGunZ") - Sponsored by NHN USA via their game portal ijji (Closed)
Brazil ("BGunZ") - Sponsored by Level Up! Games|Level Up!
Ad blocker interference detected!
Wikia is a free-to-use site that makes money from advertising. We have a modified experience for viewers using ad blockers

Wikia is not accessible if you've made further modifications. Remove the custom ad blocker rule(s) and the page will load as expected.